Brand Strategy That Delivers Measurable Results
WHETHER WE'RE CRAFTING BRAND STRATEGY, MARKETING OR CUSTOMER EXPERIENCE INITIATIVES, YOU EXPECT US TO DELIVER ON TIME AND ON BUDGET. OUR AGILE WORK PLAN ENSURES YOU KNOW WHAT WE ARE DOING, WHEN IT WILL BE DONE AND THE INVESTMENT REQUIRED. IT'S HOW WE DELIVER CONSISTENT, RELIABLE AND MEASURABLE RESULTS TO OUR CLIENTS.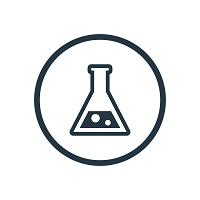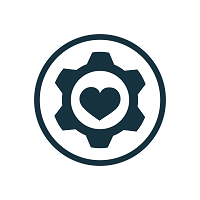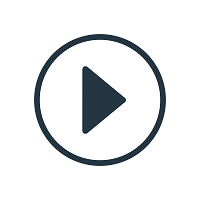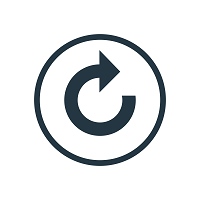 FORMULATE
We formulate growth strategies to distinguish your brand from competitors and create consistent, reliable and measurable growth. What your prospects and customers are saying is a great source of information to help you grow. We discretely uncover what your best customers value most about your brand, its products and services.
CREATE
We create compelling, practical initiatives to improve your customers' value perceptions and increase their likelihood to recommend your brand.
LAUNCH
Internal tools, process and behaviors ensure an effortlessly delightful customer experience that is repeatable and scalable. We deploy initiatives in the marketplace and throughout the organization. We meet prospective customers at their point of need in the media of their choice and engage them with your brand messages.
FINE-TUNE
We ensure we're making the highest, best use of your resources so you can do more of what's working and eliminate waste. You're under more pressure than ever to do more faster. We are always testing, measuring and learning to calibrate initiatives.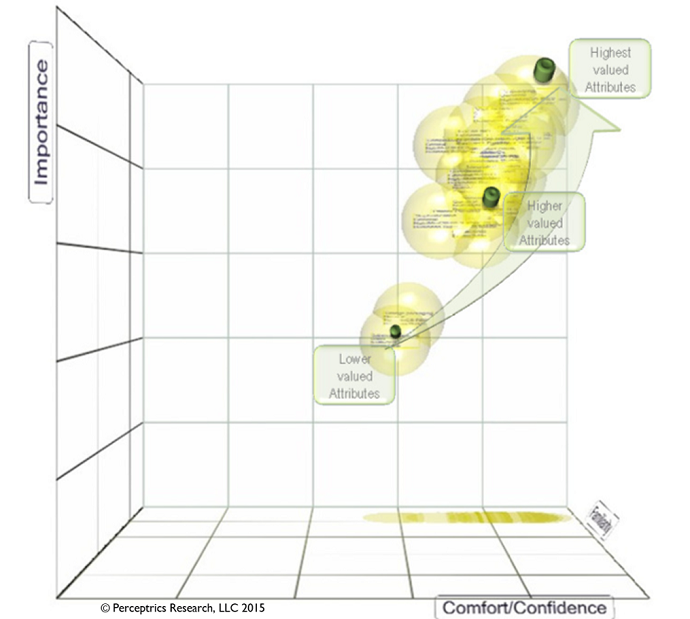 Perceptrics™
Our partnership with Perceptrics Research provides us with a proven methodology to explicitly visualize customer value perceptions in three dimensions. We use Perceptrics to help you understand how initiatives are impacting customer value perceptions over time.
Product managers use the information to address poor performing product features or lines.
CMOs use the information to eliminate marketing waste.
Customer experience leaders use the information to ensure delightful customer experiences.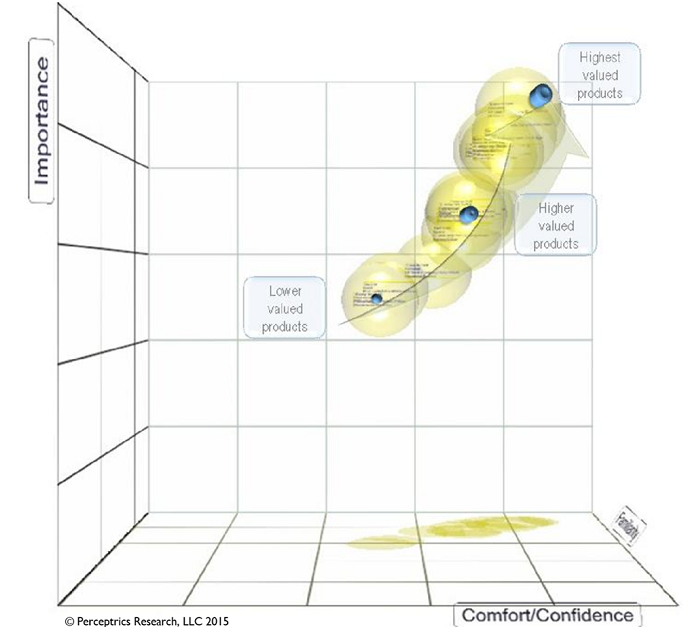 The Strategy: Perceptions Management Principles
PRACTICAL, STRAIGHTFORWARD AND ACTIONABLE, THE PERCEPTIONS MANAGEMENT PRINCIPLES GUIDE CUSTOMER CENTRIC GROWTH
FOUNDATION PRINCIPLE
Long observed and rarely acted upon it is the relationship between customer value perceptions and enterprise growth that propels prosperity. We help you convert this observation into action. Your brand, the marketing you create and the customer experience you deliver, all of them impact your customer's value perceptions. Higher customer value perceptions create more durable relationships.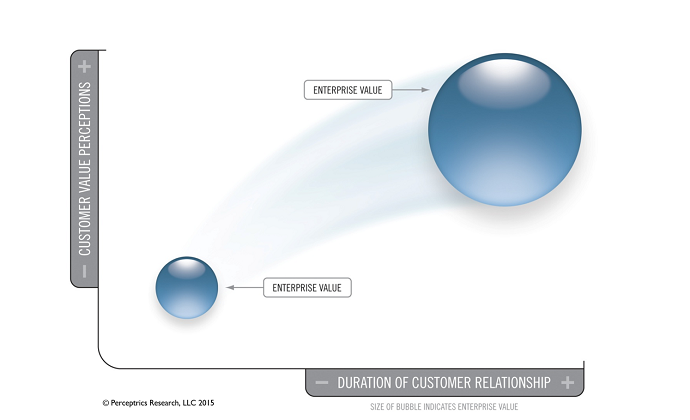 Simple but true, a customer or prospect makes a decision to purchase based on his or her beliefs and feelings about a product and company. The higher his value perceptions the more motivated he is to buy and buy more.
As we improve customer value perceptions (vertical axis) over time (horizontal axis), we create and sustain the growth of the organization.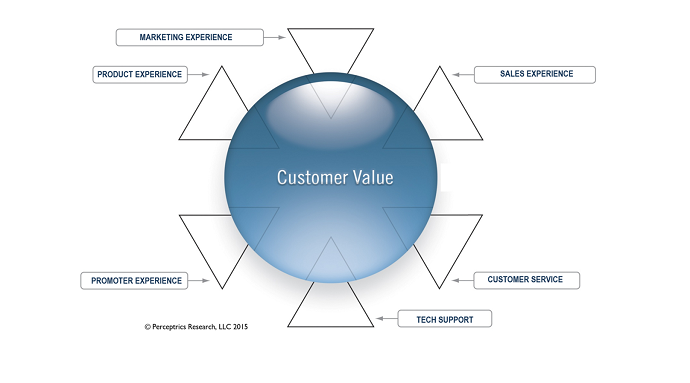 Every interaction a customer has with your brand is an impression point. Every impression point has the opportunity to negatively or positively impact value perceptions. We work with organizations to ensure your brand and impressions management initiatives improve value perceptions, thereby motivating customers to buy and buy more.
THE BEHAVIORAL MIGRATION PRINCIPLE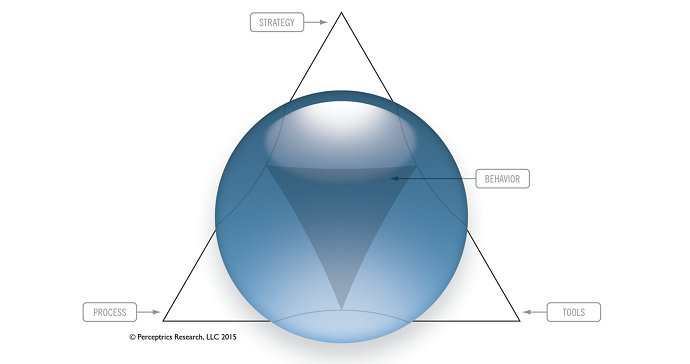 Improved customer value perceptions rely on individual employees adopting and then demonstrating consistent, reliable customer centric behavior at every impression point.
Our innovative skills development programs expedite your employees adoption of customer centric behaviors and link those behaviors to visible performance outcomes – showing the individuals responsible for improving customer value perceptions the impact of their actions.
To the extent your employees delight your customers, the more likely both are to recommend your brand to their friends.
THE ECONOMIC COLLABORATION PRINCIPLE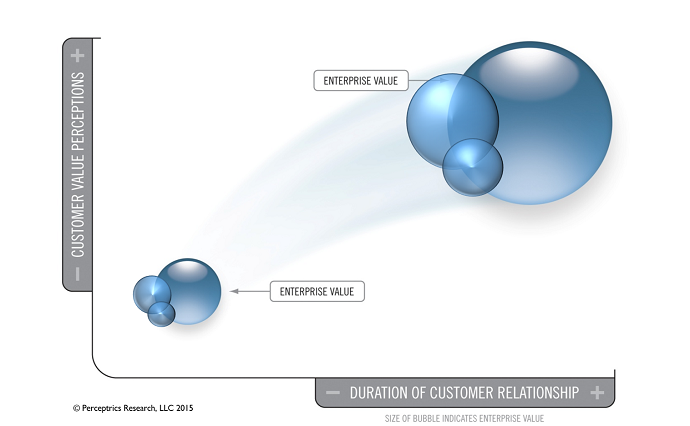 Collaboration strengthens all relationships as individual companies work collectively toward a unified goal. We work with our clients to help them form collaborative communities with their customers and supply chain managers to increase the communities' overall value perceptions as illustrated above.
Working collaboratively, the members all achieve a single, universally-desired outcome: everyone makes more money.
THE SELECTIVITY PRINCIPLE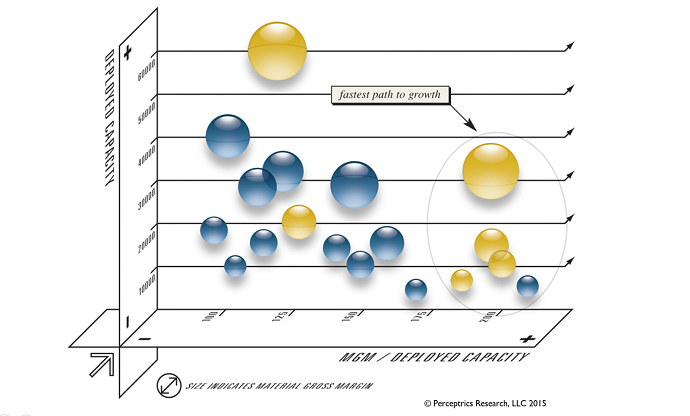 Not all customers contribute equally to enterprise performance. Selectivity identifies:
the highest relative economic contributors (bubble size)
the "high rent" customers and segments (circled)
the customers who hold the highest value perceptions that motivate them to buy (depicted in yellow)
Generally, those customers who hold the highest value perceptions of your brand represent the fastest path to growth.
Based in greater Indianapolis, PerceptionStrategy consults with clients all around the United States. Let's talk about how we can help your organization grow with certainty.
Office: 317-701-0132      
Email: [email protected]